I can't believe this is the last weekend of August! This summer has really fl
own
by. Looking outside it's very gray and dismal, looks like fall
is tryin
g to make an early entr
anc
e
.
Which doesn't bother me one bit, I'm so ready for Fall an
d even better yet, WINTER!! Th
e sooner winter
gets here, the sooner we'll get to m
eet our beautiful baby girl, Olivia. Let it snow
!! And I figured while it's a
gloomy day
out, we've got no plans, and Alyssa's happily reading her library books, I will attempt to write a blog entry on family, fun & t
hings... After all this is the one and only website wh
ere you'll find the "Queez-Beez-Neez" ;)

So, I'll just get right down to the beez-neez...
We've had a really great summer!
We've taken a
dvantage of the warmth
and our lovely surroundings by hitting the lakes & rivers, doi
ng a little camping, taking
day trips around Oregon, and attending weddings, baby showers & b
irthday parties, getting to celebrate with our friends & family as they start
different phases of their lives. We
haven't had time to do much of anything else and if you can believe it, I'm actually starting t
o look forward to things slowing down again, if that ever does happen. We'll most likely jump right into preparing for Olivia's arrival, getting everything ready for the holidays, and then looking forward to our move in the Spring.
For an Alyssa update, she's doing fantastic!! She's gr
owing to be such a smart, sweet, beautiful lit
tle girl. She's surprising us every day with som
ething new! Her speech is i
mpeccable, she has a big voice and loves to make it heard! She can count to ten with confidence
, count down from
5 with ease, and she's even
surprised us
with her bilingual
numbers learning them in Spanish and Mandarin, thanks
to her favorite cartoon characters: Dora & Kai-Lan. ;) It is beginning t
o see
m like numbers are her thing. Thankfully I think she'll ha
ve taken after her Dad instead of me
and Math will come easy to her, lucky girl! One thing she does seem to have gotten from her Mommy would be a love for Art! She has been very into coloring, drawing and her mag
nadoodle lately and we are thinkin
g of getting her a paint set for Christmas. Other than that, we've been working on manners and she is usuall
y always on top of it, remembering to say her "Please & Thank yous" w/out
even needing to be reminded. S
he and I continue to enjoy spending our
days together and have a pretty good routine down, but I would ha
ve to say her favorite time of day is when 5pm rolls around and her Daddy gets home from work. She has become quite the Daddy's girl l
ately, wanting
to
do anything and everything
to ma
ke daddy happy and entertain him with her silliness.
She's also gotten very attached to her grandparents, latching on to Pampaw whenever he comes to visit. I love to see her sitting in the window waiting for him to arrive and hearing her scream, "PAMPAW''S
H
ERE!!!" as soon as he pulls up the drive. She also has a ball with her aunts & u
ncle
s and it's a huge treat to us when Dad has them on weekends and brings them over to vi
sit us. My Brother's & Sisters Geno, Kayli, Brandon & Nicole are growing up so fast and I am ex
tremely proud of them as I watch them
turn into the awesome people that they have become. Kayli and
Brandon are both very athletic and we enjoy hearing about all of their
accomplishments in school. Nicole is still my little sweetheart and her and Alys
sa are practical
ly joined at the hip when th
e
y are here! Geno is his usual happy go lucky self and always has sweet things to say to me, never letting me forget that I am
his beautiful big sister who he loves and adores! We were
happy to hear Dad & the kids had a wonderful time on their trip to visit Grandma R
uby & Grandpa Gene in San Jose. I talked to them every other day while the
y were there, and though I was super excited for
them, it was hard to miss out on all the fun, next time we hope to be right there with them!!
They spent the week having all kinds of fun including Chuck.E.Che
ese & a day
at Santa Cruz
riding the rides. Seemed like
everyone had a blast and really enjoyed the time together. As you can see i
n the pics they are growing way too fast, as kids seem to do.
Our Sister, Vicki is doing awesome ov
er in the
valley with her
adorable little family. Her and Jordan will be celebrating their one year anniversary this O
ctober and they seem to still be living up the honeymoon phase, which is
a
lw
a
ys a good sign! ;) Jordan is still plugging away on his VW Bug and last I heard it's just about 'Road-Ready' So we look forward to seeing them zooming th
at beetle around soon! Toryn and Avery had an awesome summer toge
ther and have become the closest brothers in
hist
ory!! We are really going to miss Aver
y while he's back in Texas with his Mom through the school ye
ar
and will be so happy to have him back home for the summer! Avery will be sta
rting Kindergarten this year and Toryn will be going into the FIRST GRADE! It's hard to b
elieve the boys are growing up so fast and it seems like they each grow taller and taller e
very time we see them! Although we miss
The Sanders like crazy, we couldn't be
happier for them an
d we can really
on
l
y go
a few weeks at a time in between visits,
then they make the trip over th
e
mountain t
o see us or we drive over there to see them. And I k
now Alyssa Be
lle w
ouldn't have it any other way, she's gotta get her Auntie Bicki fix in & I'm pretty sure the feeling is mutual. :) We're really looking forward to going to
Molalla next weekend and spending
Labor Day hanging out w/family @ Vicki's. It will be the
first time we get the entire family together over there for an entire weekend! I think we might even have to make a trip to Chuck.E.Cheese and let the kids be kids, (Travis and Jordan right along with Alyssa & Toryn!!)
Mom & Dad Q celebrated their 34th anniversary this June and
are still going strong!!
They are so
cute together, almost too cute!! They've had a pretty great summer too! I think
they're only complaint would be too much work, not enough fun!! Which I'm sur
e we
can all agree! ;) Mom's been spending every chance she gets floating
the river and Dad's done some amazing stuff with their yard making it look better tha
n ever! They've even had time to do a little Jeepin' here and there. They've also enjoyed
having Alyssa over for slumber parties at Mamaw & Poppy's and always seem to spo
il her rotten in just a shor
t time, so that when we get her back she is a complete terror, but that's what grandparents are for, right?! ;) Mom's 50th Birthday Camp-Out was a huge hit! We all had a blast and made many memories that week! We'll have to start thinking about how we're going to top that one for the next big Over the Hill Birthday... TRAVIS!!! :P
That's pretty much our summer in a nutshell and now that you've gotten the beez-neez on all the happity haps... let's take a look forward to what's coming up:
Travis and I will celebrate our THREE YEAR anniversary this September.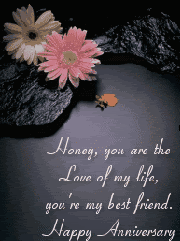 If asked, I think we'd both tell you that at the three year mark, you sort of have this funny feeling like you're already an old married couple who know the ins and outs of your better half like clockwork, and you're starting to see everything in your future rolling out for you and look forward to every step along the way.
Then there are times where we feel exactly like we felt the moment we knew that we'd spend the rest of our lives together and we still get that fluttery feeling in our stomach when thinking about one another. It's truly a remarkable feeling to have and we still thank god every day for bringing us together.


We are anxiously awaiting Grandma Ruby & Grandpa Gene's visit to Oregon and
really look forward to seeing them, especially since it's been so long since we've last gotten to see them. I have a feeling they're probably getting pretty anxious about it too and look forward to seeing Alyssa in person again and getting to know her a little better. I should warn them though, to be prepared for never wanting to leave once they do see her!! ;) Still waiting on word on when that date will be set.
We're thinking of having a Halloween Baby Shower Celebration
being that our baby girl is due to arrive in December and though we already have most everything we need for her arrival, we feel that celebrating her in a baby-shower fashion is still very much warranted!! We'd like to get together with family and friends and think that doing it around Halloween would be a blast! Plus I just really want to paint my tummy like a pumpkin and eat tons of candy!! :) More on that to come!!
Not quite sure what our Thanksgiving and Christmas plans are for this year. I have a feeling everything will sort of come down to the wire and it will all depend on when
our little Olivia decides to make her grand entrance! ;) As of right now we have a
couple of dates set, the first being December 26, the original
due date s
et by my doctor, the second being December 14, which was the date set by the
ultrasound technician who said based on the measurements at 20 weeks baby is a couple weeks older
than we had first guessed. So we'll see. As you know our first daughter tried to make an early debut and we had to force her to stay in a few weeks until fully 'cooked'. ;) So who knows maybe this one will take after her sis and try to come early closer to Thanksgiving, or maybe she will be a shy one and hide out for an extra week or two... only time will tell.
Well that is all for today. I do hope that you too, have enjoyed your Summer! I look forward to hearing all about your happity haps as well, so do tell!! And If you weren't mentioned here, it is not because I do not love and care for you as my family and friend, it is because I just haven't gotten the pleasure of hea
ring from you enough to know what your happity haps are, so stay in touch!
We love you all dearly. And though we don't always get around to saying it, our t
houghts and prayers are always with you. Until next time... S
tay Classy Friends &
Family.
:)